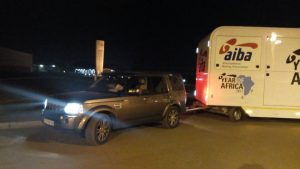 Over 500 people will witness and be part of the "2017 AIBA Year of Africa" boxing road show launch to take place at the Olympic Youth Development Centre on Friday 14 July.
The AIBA truck which has a boxing ring arrived at the OYDC on Monday and tour five sites including schools, community sports grounds and shopping malls from Saturday 15th July to Tuesday 18th July when the truck will leave for South Africa as it ends its tour of the African continent.
Local boxing ambassadors will be present to showcase their skills to athletes and those who will witness the boxing road shows.
Noah Silomba
http://www.oydc.org.zm/wp-content/uploads/2017/04/oydc-logo.jpg
Noah Silomba
2017-07-12 07:49:50
2017-07-12 07:53:00
AIBA year of Africa boxing road shows