Government commends 'Teulings' sponsorship
Noah Silomba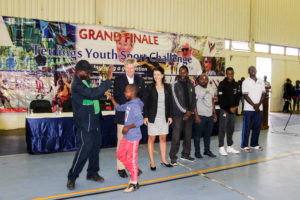 Matero Member of Parliament Lloyd Kaziya, who is also Water Development, Sanitation and Environmental Protection Minister, says government attaches great importance to projects aimed at supplementing its efforts in the development of sport especially at grassroots level.
Speaking during the Teulings Youth Sports Challenge Grand Finale held at the Olympic Youth Development Centre (OYDC) on 28th October, 2017 the Minister noted with happiness that there have been a number of successes scored by the OYDC in running the Teulings Youth Sports Challenge, which has seen more than 200 top talented athletes being identified and have further gone to compete in clubs while a total of 147 athletes have been selected to junior and senior national teams. Athletes that have passed through the Teulings Youth Sports Challenge have progressed and participated in major regional and international competitions such as the Zone VI Youth Games, FIFA women world cup, U20 Africa and World Cup and the Youth Olympic Games.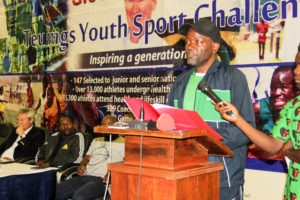 He commended the sponsor Mr. Coen Teulings, the Chairman of Merifin Capital of Belgium for partnering with OYDC and contributing to over 3,000 young talented athletes aged between 10 and 17 years participating and benefit from the Teulings Youth Sports Challenge.
Speaking earlier Hans Bertels, the representative of Mr. Coen Teulings, disclosed that the Teulings Youth Sports Challenge is yielding positive results by producing athletes who are being selected to national teams in different sports disciplines sponsored by Coen Teulings.
He congratulated athletes who were rewarded for their outstanding performances after successfully participating in 2017's Youth Sport Challenge league games.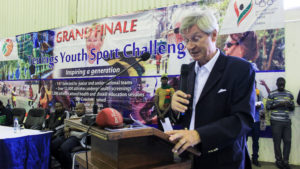 In addition, Bertels pledged to continue to support the league with emphasis on helping young athletes to represent Zambia at the 2018 Youth Olympic Games in Argentina.
Meanwhile, OYDC Director Clement Chileshe, announced that over 15, 300 athletes who have been part of the Teulings Youth Sports Challenge in the last seven years have attended health and life skill education sessions.
He said 2,286 competitions have been conducted in five sports disciplines; Basketball, Football, Beach volleyball, Tennis and Hockey which have been greatly supported by Teulings.
Chileshe, assured young athletes that they will continue to enjoy the multi sports facilities offered by the institution to discover and develop their talents through well organised competitive games; like, the Teulings Youth Sports Challenge.
And Gift Bwalya, a hockey player and beneficiary of the Teulings Youth Sports Project who was part of the team that represented Zambia at the 2014 Youth Olympics in Nanjing, China expressed gratitude to Mr. Coen Teulings for his continued support of the league which has seen a number of athletes refrain from bad vices in society.
Some of the teams and athletes rewarded with trophies and medals include: DE Stars Hockey Team, SpringFields Hockey Team, Queen Sakala (Tennis Player), Mapoloto Basketball Team, Joshua Tembo (Beach Volleyball player), Mwiche Chibembe (Basketball), Oscar Mwale (Hockey), Joe Tembo (Basketball) and  Queen Muchagama (Hockey).
The Teulings Youth Sport Challenge is an annual event established to cater for athletes aged between 10 and 18 from different parts of Zambia. It involves competition in four different sporting disciplines; Basketball, Beach Volleyball, Hockey and Tennis, and are sponsored by Coen Teulings Chairman of Merifin Capital in Belgium who has supported OYDC with over K8m since 2011.